About Bill Protzmann
Just a few words about Bill Protzmann, the mastermind behind this site.
As a performing pianist, professional speaker, and entrepreneur, Bill Protzmann has an unabashed wealth of life experience with anxiety, stress, and depression. His life mission is to offer human beings the opportunity to re-engage with the innate edge. Very importantly, the Practical Heart Skills that every one of us already possesses are the one critical key to redeploying your edge. In his volunteer work with the most at-risk people in society today, Bill Protzmann has demonstrated that this mission is achievable.
Bill Protzmann's Short Bio and Accomplishments
Bill started piano lessons at three years old. He grew up playing and performing and realized very early on that the discipline of playing the piano was also a behavioral healthcare practice. When he began seeking non-traditional audiences — Alzheimer's patients and people struggling with physical or emotional injuries, stressed-out businesspeople, parents, caregivers — he began to understand and witness the true power of music as a tool.
As an observer of the power of music throughout his life, Bill Protzmann speaks openly and confidently about how he has used music as self-intervention in his own behavioral healthcare, including confronting suicidal tendencies. His ongoing volunteer work in the field brings him constant opportunities to coach people who are or have been homeless, abused substances, are combat-injured or are caregivers in the Practical Heart Skills of Music Care.
This big idea guides him every day:
Between "music as entertainment" and "music therapy"
is the powerful opportunity to
use music as a tool.
Bill calls that opportunity "Music Care."
Bill's fascination with the medicine-like effects of music caused him to study the topic and stay engaged with the most recent research. You can trust his 30+ years' experience to teach people just like you and your team how to use music functionally in everyday situations like these:
Improve performance at work;
Strengthen communication and relationship skills;
Take better care of themselves mentally, emotionally, and physically.
Online Media About Bill Protzmann
Bill's work was recognized by the National Council for Behavioral Healthcare with an "Oscar" for Artistic Expression in 2014:
Public Profiles About Bill Protzmann

To view Bill Protzmann's profile click here
Featured Podcasts and Interviews
Self Care with Music on the Be Awesome Podcast hosted by Dr Kristina Hallett on Mental Health News Radio Network 7/23/2019

Music and Healing – Part 1
We've all turned to music to help heal us emotionally. But did you know music and sound can heal us physically, as well? In this first of a two-part series, I speak with Bill Protzmann, a man whose mission is to heal and teach self-care through music.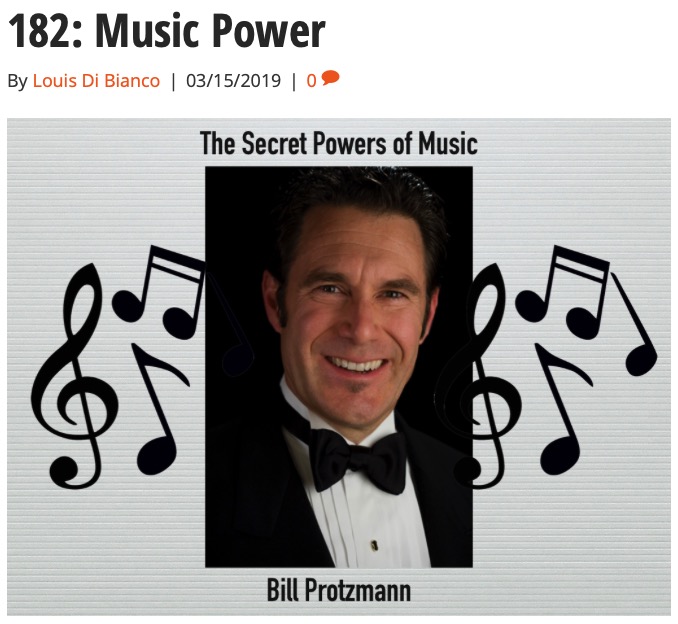 Today we interview the best-selling author of "More Than Human – The Value of Cultivating the Human Spirit in Your Organization." In this digital world, we often miss the body language, facial expressions, and showing appreciation and empathy when communicating by text or social media. Cultivating the "spirituality", humanness, compassion, and foundational communication blocks are essential in today's world. Find the book here .
Is this practical? Doable? Do we let our busyness reduce our human connection and engagement? Communication will always be a two-way street, but this show may remind you of some of the deeper levels of communication you once knew, or that you wish them to be. Join in! Click here here to listen.
Selected Interviews
The Curious Bodhi Podcast hosted by Jnana 6/13/2019
The Kinetik Fitness Show with host Ali West: the Power of Music 5/20/2019 
Resilience Unravelled with host Dr Russell Thackeray 5/20/2019
The Curiosity Chamber Podcast with host Jay Barone 5/17/2019: music psychology, history, music and drugs, famous bands, music and health, drum line, music education, and the future of music
No Redeeming Qualities Podcast 11/12/2018
The Dream Catcher 10/9/2018 with host Seline Shenoy
Your Oxygen Mask First 9/8/2018 with host Erin Yeung
Off the Chain 9/28/18 with host Yvonne Mason
Yak About Today 5/20/2018 with host David Yakir
Up-Rev Ninja podcast 5/21/2018 with host Tom Hudson
Alchemy for Life podcast 5/20/2018 with host Mark Bradford
Core Brain Journal podcast episode #152 9/19/2017: Music Heals for Past and Future
Rise Up Radio podcast episode #88 9/29/2017
Endless Beautiful #51: Arcade – Featuring Bill Protzmann 12/12/2017
On the Gutted Stories  podcast, hosted by Allie Stark Wellness, Bill shares how music has served as a tool for him to vibrantly express his feelings from a young age.
Selected Articles
PsychCentral: 7 Incredible Ways Music Helps You Process Emotions
PsychCentral: How Facebook Helped Me Cope with My Mother's Death
Good Men Project: The Scientifically Proven Way to Get EXACTLY What You Want
Yahoo! on Facebook: Why Songs Get Stuck in Your Head and How to Make it Stop